JAMES BERESFORD BLM WEALTH MANAGEMENT.
James Beresford of BLM Wealth Management must now be wishing he stayed where he was at Slaters and Gordon as this is a casefile he's going to regret for the rest of his life.
James Beresford of BLM Wealth Management, the story so far!
If you ever require someone to do your families probate try and stay away from this person and this firm for very good reasons stated below.
My interest in this story first began in 2015 when a certain Dr Jones (he's a member of my Scottish Lodge) where he asked me to use my various contacts to investigate his first problem solicitors, Bartletts of Chester.
Bartletts of Chester was so useless he had to remove himself in 2019 due to him doing very questionable legal actions that's not quite caught up with him yet but he will get his before this case is finished.
Bartletts took over Mrs Banks estate by force and Bartlett's employee solicitors was proven in court evidence in Dec 2019 to hit Mrs Banks (DR JONES Mother)  to change her will yet again.
Roll on Dec 2019 where all this ended up in court again and the Liverpool probate court ordered the Northwest law society get another executor, in their wisdom they picked James Breseford of BLM.
One of Mr Beresford's first stupid actions was to evict Dr Jones during the covid pandemic and get a locksmith to change the locks and in effect making him homeless, making Dr Jones probably the first victim of eviction to the hands of any legal firm in the country. Would you trust such a firm? 
His job was to check what the first solicitor Bartletts did not to simply rubber stamp and cover up alleged legal fraud but solicitors in good old England have a great reputation of protecting other legal  firms by simply ignoring ALL past failures and duties of care.
Now given BLM and James here claims they are the best in the probate world must really put the fear into every family in the land when we tell you all the repeated failures really makes this one scary case!
Bartletts went to a court case in 2019 with dirty hands (legal term for telling courts porkies when they know its a porkie to start with) for saying there was a 100k care bill even though in bartletts legal bundle it claimed it was only 10k.
We know its REALLY ONLY £872 but James is so good at his job he still thinks its £100,000.
We found this true figure in under 33 seconds but if we know how is it possible the greatest and best probate expert does not makes no sense unless its only for cover-up purposes and only to protect past executors? Was it worth it?
The trick there was to run up legal fees and costs and it worked a treat as the then trial judge never had the real facts as Bartletts never shared the legal bundle till after the said hearing and only grudgingly as he was forced by the judge to do so.
Now readers may wonder how it's possible for one of the greatest law firms in the UK and James Beresford can get in such a legal mess but it gets worse still!
James Beresford BLM wealth management its contradictions in terms, first he can't spot that Mrs Banks ran a guest house even more surprising was he sent letters and emails to Dr jones mentioning the guest house address constantly the address Mr Bresford was in the address.
He's just a great wealth Manager he never checked the previous solicitors' work (Bartlett's) for the massive porky of a lie that there was a 100k chester care bill.
He was also at fault for not checking the facts that a funeral bill of £4500 was still unpaid even though Dr Jones has the receipt and a copy of the where the money came from and what bank.
Poor James and Bartletts also failed to find multiple shareholdings of Mrs Banks or perhaps they knew everything only it was never stated would you want this firm to handle your affairs, in my opinion not for me.
Then there was the very strange FINAL death tax payment in 2016 of 3k HMRC (payment )that the HMRC has stated is legal fraud but as BLM have ignored this fact for 9 months, oh dear we wont go there!
Would anyone want this firm or Solicitor to be their future wealth manager.
Just when you thought it cant cant get any worse it does, even though the HMRC, Chartered accountants and everyone else says there's an IHT 413 to complete to save money & stop the need of sale of Dr Jones home, James says they not applicable now the only reason he can say this is to protect the previous solicitors Bartletts who claimed the same thing.
Poor James after a few months wrote a court statement stating there was a breakdown of trust and he was removing himself from this probate problem as Dr Jones had to submit his defence document and blew poor James out of the water.
A very curious thing happened after that, weeks went by with zero correspondances then we learned poor James had become a client of the firm yet they (BLM) that James was still in charge of the probate but BLM was signing it with BLM no signature at all – you only become a client of the firm when the firn requires protections!
Theres loads to this legal probate scandal but I have to leave some gory details for the Amazon published what is sure to be a best seller you can purchase a copy here and the international film rights are currently under secret discussions.
I can see a lot of people will be going to jail here?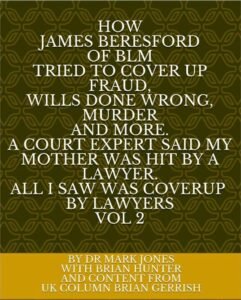 More information on this story here,
and here!
We have asked BLM COMPLIENCE FOR COMMENTS, NO ANSWER SO FAR!