MITSUBISHI ASX RUST PROBLEM SCAMS.
Mitsubishi ASX rust problem scams where the manufacturer uses sharp business practices to avoid 12 year rust customer claims.
Yes the web is full of horror stories about Mitsubishi car owners moaning that never again will they buy from this car maker ever again.
International Scotland was contacted in these regards and what we found will shock you!
Dealers say they will help you but in reality its them that causes the problem.
If any customer wishes to make a claim they have to provide proof they have a full service history but after you have been fleeced crazy prices for simple oil changes there's also the matter of the anti rust inspections at the back of the service book has to also be stamped if they are even one missed rust inspection you cant get a claim which is just mental.
So most can argue its a manufacturing scam that unofficially tells its dealers from the off just to ignore the inspections all together saving the manufacture a small fortune in anti-rust claims is quite disgraceful and proves dealers are not worth using given ASX tailgates are the most rusty in the game and as there is so many rusty tailgates out there it has to be considered as a design fault.
Here's how bad it can get and in this case it had a full service book history and not one main dealer stamped the anti-rust inspection while the customer paid Mercedes main dealer servicing costs shows Mitsubishi owners are wasting their time and money even bothering to do to the main dealers.
This example is from Dundee main dealer this rust started from inside the bodywork the dealer claimed it was covered then said what even dealer says ah the manufacturer says NO as the service book has not been checked or stamped, oh right but your one of the stamps why did you not do it yourselves to which the customer is still waiting for an answer 3 years later since then she has not used the main dealer for servicing since!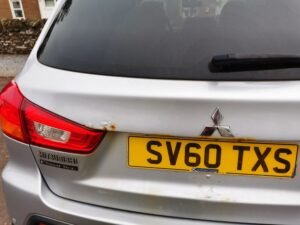 You would think Mitsubishi would honour their warranties in either case but if it was always their plan why would they.
Apart from producing very thin metal panel work and crap antirust protection their cars are very good with great engines but they really need to get a grip with this scam of their making if dealers don't bother stamping the service books it seems nothing happens to the dealers but customers are the ones holding the baby is outrageous in this day and age and Mitsubishi seems to not care one jot?
YET ANOTHER CASE OF BUYER BEWARE,